FURTHER INVENTIONS
Cousteau's additional inventions revolutionized the world of underwater photography and deep sea exploration.

There is a lot of Jules Verne in Cousteau–the image of the world not explored, the boy at heart, inspired, ingenious, quick to laugh–but there is also a practical, nuts-and-bolts side to him, a delight in wrestling with problems and solving them with new technology.
–Axel Madsen, Cousteau: An Unauthorized Biography, 1986

---
With the completion of the aqualung, Cousteau wished to make undersea research more efficient. Each innovation only served to increase Cousteau's desire for better exploration techniques.
I have always dreamed of a way to explore long distances on the bottom without the heavy fatigue of swimming. So now we have the electric scooter.
–Jacques Cousteau, The Silent World, 1956
The aqualung allowed divers to explore the ocean, but Cousteau hoped to share the places that he discovered with the public.

After filming using cameras sealed in watertight cases, Cousteau worked with Dr. Harold Edgerton of MIT to create the first successful underwater cameras with fully accessible controls. They called their camera

Calypso

after Cousteau's beloved research boat.

Nothing like he had in mind existed, so Cousteau invented it.
–Jim Bitterman, CNN, 2012


With the major obstacle to underwater photography removed, Cousteau wanted to continue deeper to explore the unseen reaches of the ocean. Cousteau's most notable inventions towards this goal include the diving saucer (the first submersible solely intended for research) and Conshelf, the first program for underwater living

(followed by Conshelf II and III).
Conshelf II developed techniques that are currently used by NASA in zero gravity training sessions, it exhaustively studied shark behavior, with experiments using underwater cages located within 167 feet deep, and developed new technologies such as the underwater scooters (so popular today among many divers) that were used for the first time in this expedition in the Red Sea.
–Jorge Mezcua,"Jacques Cousteau, Turning Science Fiction into Reality," 2013

Selected Inventions & Collaborations

(Please click on images to view larger. Captions are also visible by hovering)

---
Powered by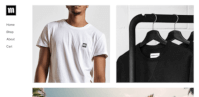 Create your own unique website with customizable templates.